June 22, 2018
Happy News from Kohala Hospital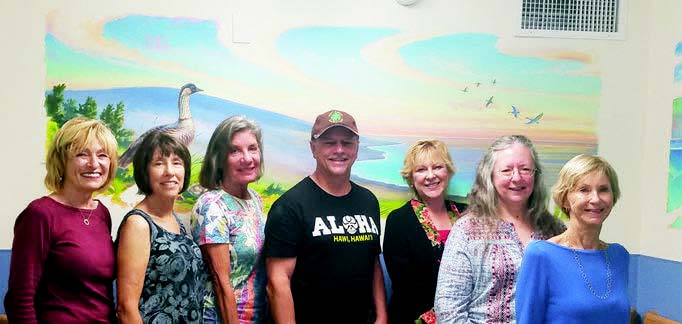 Photos courtesy of the Kohala Hospital Charitable Foundation
Kohala Hospital Charitable Foundation Board members and artist Patrick Ching stand in front of the newly painted ER wall painting. Board members (left to right): Elsbeth Meinardus, Shoshana Matsumura, Sara Cameron, Artist Patrick Ching, Donna Beumler, Cindy Sakai, Dixie Adams Not pictured: Rebecca Steele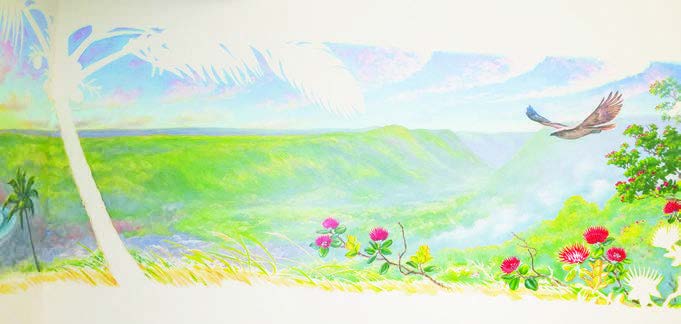 An `io, or Hawaiian hawk, soars over `ōhi`a lehua blossoms.
By Elsbeth Meinardus
The beautiful state-of-the art Emergency Room at our Kohala Hospital has been in full operation now for many months to great accolades from the community and sick or injured tourists. There was just one thing the Kohala Hospital Charitable Foundation Board Members were not too happy about, and that was the white walls in the ER Waiting Room. The consensus was that it should be an oasis of beauty and calm. So started the collaboration between KHCF, Patrick Ching, Kohala Hospital and Fern White.
The finished product is just amazing. What a difference! Many long days of Patrick Ching's planning and painting has transformed a place that can be very stressful for anyone needing to visit an Emergency Room into a beautiful place of peace, healing and calm. Each wall is a painting from right here in North Kohala, from Pololu to Kahua Ranch and the coastline. There is even a whale swimming in the ocean.
"In the three weeks Patrick's been painting it's made a huge difference. Our mission was to create a healing environment," Kohala Hospital Administrator Gino Amar said.
Patrick is not just a gifted painter, but a generous human being as well. "When I did get in their way, I'd give them a paint brush," Ching joked. "I got to see it have the desired effects on the people coming in. They were all under stress for different reasons. And even the guy with the high blood pressure said, 'Oh that's just what I needed.'"
The next step for the KHCF and Kohala Hospital is to build a garden for patients and visitors. The planning and financing of the huge project has been accomplished, some underground construction is done, and the rest of the work of building and planting is about to begin in the very near future.
That however does not mean the Foundation is done yet. Oh no, there are exciting future plans on the agenda. One thing is for sure, Kohala Hospital will be one beautiful, healing and well-functioning hospital for our Kohala community who has been amazingly generous with donations and support. How blessed we all are to live in such a wondrous place.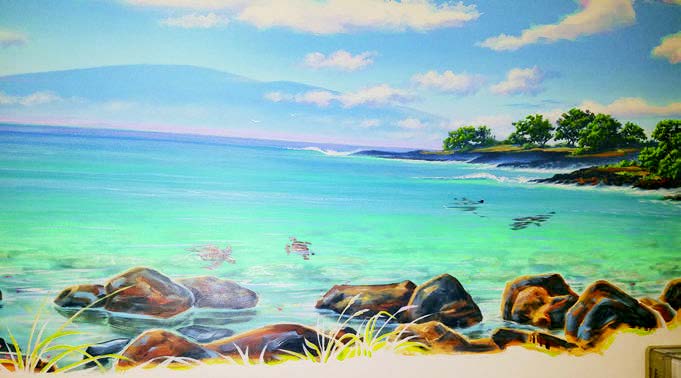 Honu and manta rays swim in the foreground with Maui visible across the water.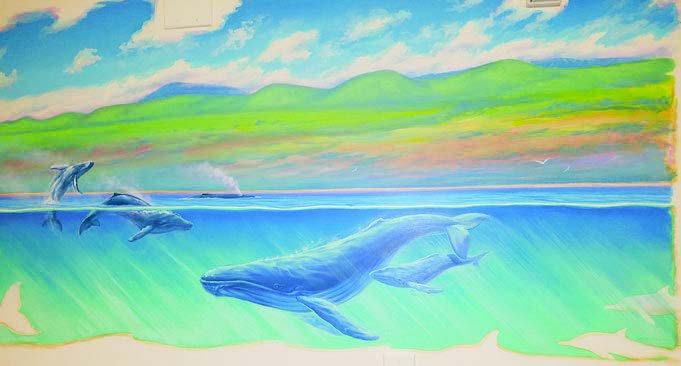 Humpback whales, including a new calf, breach, swim and blow near shore.

Nene, or Hawaiian geese, and grazing horses.