November 20, 2015
Kohala Hospital Welcomes New Emergency Room Physician
Oct. 2015 – This is the second in a series of interviews of the Kohala Hospital Emergency Room physicians conducted by Elaine Christianson, Secretary of the Kohala Hospital Charitable Foundation Board. We are happy to report Dr. Tony Jackson has joined the team.
EC: Can you tell me a bit about yourself and your background?
Dr. J: I was born in Alabama, grew up in LA. and went to medical school at UC Irvine. I then moved back to LA and worked at Martin Luther King Hospital, at the beginning of the specialty of emergency room medicine. It was an exciting time! I practiced there for maybe 10 years, living on a boat, till I met my wife, and we raised two kids and two dogs on a sailboat. When I developed asthma, I started to seek out a path towards healing myself, which led me to acupuncture, herbology school and various alternative forms of medicine. Finally I met a Chinese allopathic doctor who was able to apply various modalities to heal me. I felt this was the kind of medicine I wanted to practice. At that point I had an epiphany and started to work in a more h o l i s t i c way.
E C : How did you end up finding Kohala?
Dr. J: We came to Hawaii about 23 years ago with our pre-school aged kids on a conference. We took a drive May 1 to Kohala and we happened to stop by the middle school. We were overwhelmed by the feeling in this family friendly community and were 'sold' to being here after seeing the high school May Day performance that night.
EC: I am aware that you bought a piece of land down the road from us but it's taken years for you to make the big move. What took so long?
Dr. J: The kids got into school, made friends and we were stuck in LA till they got into college. At the end of last August we sold everything and moved over. I needed to slow down.
EC: I understand you work both in the North Hawaii Community Hospital ER and here in Kohala Hospital. Dr. J: Yes, at first I joined HEPA (Hawaii Emergency Physicians Association), which runs most of the hospital ERs in the Islands, to have steady work until a position opened up at Kohala Hospital.
EC: Having worked in several hospitals in the ER department, what kind of improvements at our hospital would you like to see?
Dr. J: I think the new ER space opening soon will vastly improve our working environment, and once we are in there for a while we will know more what materials are needed. A CAT scan [unit] would be an excellent addition to save a lot of patients a trip up to Waimea.
EC: Is someone on staff trained to read the images?
Dr. J: We just hired a new X-ray tech who has the ability to read CAT scans and X-rays, and digital images can be emailed to other experts. But the material issue is just a matter of money. The harder issue we need to work on is the community perception of our hospital – fostering trust. I've seen Kohala people in the ER up in Waimea for problems that could have easily been handled here. People don't get to know the docs working here, as they tend to come and go, with some exceptions like Dr. Watkins.
EC: What advice do you have for people coming to the ER?
Dr. J: The first bit is "patience." It takes time to diagnose and treat, and there is only one doc at a time on a 24-hour shift. The person in the most critical condition is the first person to be seen.
EC: There is quite a crystal meth drug problem in this community. Do you see that affecting the ER?
Dr. J: We see quite a few of those cases, and often it is due to the side effects of the drug.…You develop some extreme medical conditions, even at a young age, with heart and lung issues for instance.
EC: On a personal note, how is your wife Nancy adjusting from moving from a big city to this small rural community?
Dr. J: She has excellent skills in working in the field of physical therapy, especially in stroke rehabilitation. Unfortunately she has not found work, so she started working gratis with some folks in the community.
EC: I hope it all works out well for both of you, and thank you for your time.
Dr. J: We are here for the long run; this is the place we call home now.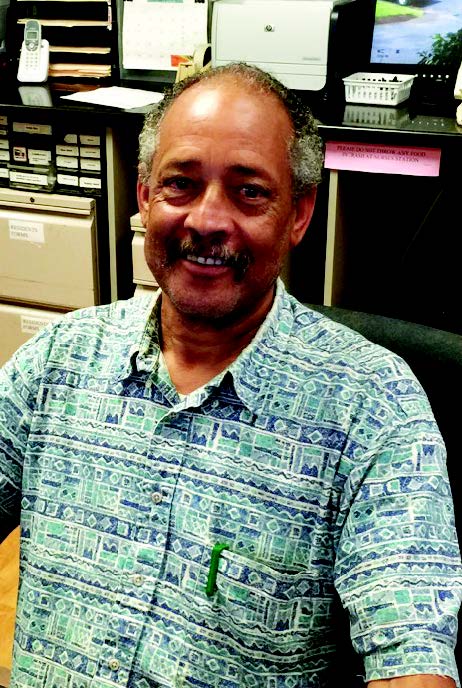 Photo Courtesy of Kohala Hospital Charitable Foundation
Dr. Tony Jackson has recently moved to Kohala to work in the hospital's emergency room. Due to a personal healing experience, he is committed to practicing medicine in a more holistic way.