Kohala Hospital Charitable Foundation's ER Project Moves Forward
Construction plans for Kohala Hospital's new emergency room have been completed and are now in the permitting stage. We are currently working on some budgets for the different phases which the North Kohala Community Resource Center can use to secure funding from grants for us!
I am sure all of you are aware that our Spring Fundraiser was a great success and also lots of fun! We now have $300,000 in the account, which is enough to get well into the building phase when the permitting is completed. As you know or would immediately realize if you visit the hospital, state funding is also making big improvements to the infrastructure there; i.e. ongoing bathroom upgrades, removing and replacing the old asbestos flooring and walls, and a major change to the employee parking lot which will also initialize the new ambulance entrance necessary for the completed Foundation ER project.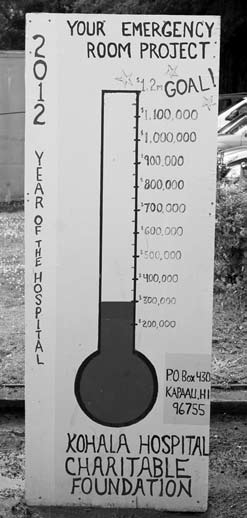 We thank the community for its patience and continued support as we now move toward the actual construction phase of KHCF's Rural Emergency Care Project (RECAP).
Tommy Tinker, President Kohala Hospital Charitable Foundation