October 29, 2011
Promoting Keiki Healthy Living at the Fair
The Kohala Hospital Charitable Foundation sponsored a booth at the recent Kohala Country Fair emphasizing "Healthy Keiki" by educating parents and focusing on the importance of changing our diets and lifestyles to improve keiki health.
Children played games while others had their heights, weights, and blood pressure taken. More than 100 children, ages 3 and above, were screened, and several children were found to have high blood pressure.
The foundation also introduced the Hawaii "Living Healthy" program, emphasizing the Hawaii 5210 initiatives, including eating five fruits and vegetables a day, watching only two hours of television, exercising for one hour a day, and zero sugar drinks.
By increasing water intake, decreasing fried foods, and eating less fast food adults and keiki can maintain healthier weights and avoid the health complications that can result.
The foundation thanks the "The Amazing Tooth Bus" and Dr. Jochen Madeisky for dental sup-plies provided, so important for our keikis' health.
For more information, go to www.hawaii5210. com or call Dr. Garcia at 884-5191.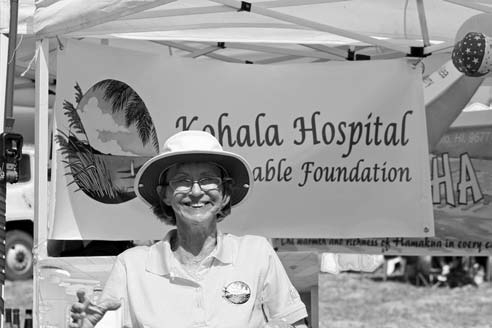 Dixie Adams volunteered at the Kohala Hospital Charitable Foundation booth at this year's fair.