December 26, 2015
New Kohala Hospital X-Ray Technician Interviewed
Story by Elaine Christianson
This is the third in a series of interviews of the Kohala Hospital Emergency Room physicians/staff conducted by Elaine Christianson, Secretary of the Kohala Hospital Charitable Foundation Board.
In this interview, Christianson sat down with Buddy Caravalho, a new x-ray technician.
Christianson: You are a new x-ray technician here at Kohala Hospital, and I hear that you were born and raised here in town.
Caravalho: Yes, and I went to Kohala High School. My dad worked more than 30 years here at the hospital, so I grew up knowing most of the people.
Christianson: Once you graduated, how did you choose x-ray and where did you train?
Caravalho: I wanted to try a diff erent career path from others in our family, so I chose x-ray. I trained and interned in Eugene, Oregon, and worked for one of the top hospitals there, a 600-bed hospital. I worked 16-hour days combining the intern and paid work. They only had one x-ray tech, so I had three pagers that kept me running up and down stairs!
Christianson: How long were you away from Hawai`i and what brought you back home?
Caravalho: I gained a lot of broad experience, but after six-plus years I applied for a position at Kona Hospital. It was an eye opener, like going back in time, after the cutting edge technology I was used to on the mainland. I brought a lot of ideas from the mainland and was eventually in charge of purchasing equipment and setting up a CAT scan department.
Christianson: How did you get recruited over to Kohala?
Caravalho: I heard an x-ray tech was leaving Kohala Hospital, and I felt being in a smaller community would be good for my family. I'd been doing three shifts a day! My wife is a registered nurse at North Hawai`i Community Hospital and our older child goes to school here in Kohala.
Christianson: Let's talk about that new portable digital x-ray machine just purchased with the funds raised by the Kohala Hospital Charitable Foundation. It's a story worth repeating: This unit had an original price tag of $333,000 and was sent from the mainland as a demo to another hospital. We were able to purchase it for $124,000, including a 5-year warranty and full service support!
Caravalho: I think this machine is state-of-the-art. We can now do CAT scans and immediately send the digital images out. This is the best on the island. The old style one we have here, which uses fi lm cartridges, is still in use, especially for chest x-rays. It's good to have back up. Comparing these two machines is like comparing the landline phone to the iPhone 6. Remember, when I started this fi eld we were dipping the images in developing fl uid and so on, and it then went through a multi-step process until we got the fi nal image. By taking images digitally, it uses half the radiation! The other pluses are that it's portable and has better image quality and quicker patient service. All of that equals better patient care and, as you see, we have a recently remodeled a very spacious Radiology Department, so it's a nice place to work. Christianson: Buddy, we are delighted to have you on staff with all your background in the many procedures that you've told me about now that we have the new, state of the art x-ray machine! Now I'll let you get back to shredding all those old fi les we see behind your desk. I can see why you are happy we've moved to the digital age.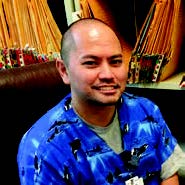 Photo by Elaine Christianson
Buddy Caravalho has returned to his hometown roots in Kohala to be the new x-ray technician at Kohala Hospital.