January 24, 2015
KHCF Golf Tournament Planned to Fund X-Ray Equipment
On Saturday, February 7, the Kohala Hospital Charitable Foundation (KHCF) invites you to play at the 7th Annual Kohala Hospital Golf Tournament at the Hapuna Golf Course. Check-in time is 7:15 a.m. for a shotgun start at 8 a.m.
The annual golf tournament attracts golfers from near and far. The event includes generous prizes and good times galore. In addition, each player will receive a gift bag.
The day of fun includes both Bitburger Pils and Koestritzer Schwarzbiers beers, plus a fabulous buffet lunch at Arnie's, catered by the Hapuna Prince Hotel. Many generous prizes will be awarded during the lunchtime festivities.
The KHCF Golf Tournament is a favorite among golfers of Hawai`i. Another sold-out crowd is expected, so early reservations are advised. All-inclusive tickets are $195 each.
The tournament is again sponsored by the Meinardus family and by Bitburger Brewery. One hundred percent of all proceeds will go directly to the purchase of a portable x-ray unit and a hot/ cold food cart for Kohala Hospital. Last year the KHCF raised $45,000 for the hospital's Emergency Room Fund. The Foundation is hoping that this year's tournament will be another successful event.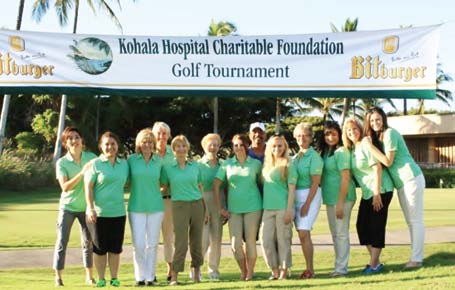 —photo courtesy of Kohala Hospital Charitable Foundation
Kohala Hospital Charitable Foundation trustees and volunteers raised funds for the hospital's emergency room during the 2014 golf tournament. The Foundation is planning another tournament in 2015 to fund an x-ray machine and food cart.