July 26, 2014
Kohala Mountain News
Chief of Emergency Offers Perspective on Kohala Hospital
This interview with Robert Watkins, M.D., Chief of the Emergency Department at Kohala Hospital, was conducted by Elaine Christianson, Secretary of the Kohala Hospital Charitable Foundation Board
Elaine Christianson: Dr. Watkins, I just recently joined the Board of the Kohala Hospital Charitable Foundation and suggested that we have a regular column in the Kohala Mountain News to inform and engage the community about what's going on at our local hospital.
As you know, the Kohala Hospital Charitable Foundation was formed to raise funds for the Kohala Hospital, and the focus these past few years has been to build a new Emergency Room. As the longestserving Kohala resident physician, what changes have you seen in the 36-plus years you've been here?
Dr. W: There have been lots of changes state-wide; locally, there's been considerable improvement in the emergency room in terms of nurse and physician staffing. In the past we did not have a dedicated nurse in ER, and now we have that, with a back-up. Our hospital has long-term care, acute care, and the emergency room. Nurses are receiving ongoing training at the hospital to improve ER procedures. Also, equipment that we have access to has expanded; our hospital used to be pretty "bare bones."
We've always had a laboratory and x-ray. We still don't have a CT (computed tomography – ed.) scanner, which is very important for diagnostic work.
EC: What do you see as the next step for the Kohala Hospital Foundation after the completion of the new Emergency Room?
Dr. W: Just buying a CT scanner is only part of what's needed. You still need someone to read the scans and someone to do something about the findings. We do CT scans at the North Hawai`i Community Hospital on referral. It is not clear whether that's the next step or not. It would sure help with head injuries. We are already focusing on itemizing new equipment for the ER, some of which will be available in the next couple of months.
EC: It looks like construction of the new emergency room will be completed approximately by late summer of this year. How will this new ER improve the care for the patients using this facility?
Dr. W: Firstly, there is more space to work in to accommodate more patients and more equipment. By having separate rooms (e.g., the cardiac room) there is more privacy for the patient and less distraction for the doctor. People are entitled to privacy—especially important in a small town. I have to say we are really lucky to have this facility in our town and see these ongoing improvements.
EC: One of the questions that comes up is the notion of affiliating with Queens Medical Center on O`ahu. What do you see as the pros and cons of that?
Dr. W: Well, whether or not there's a formal association, we do currently have a close informal affiliation with Queens. We can call a cardiologist on a cell phone and discuss a patient's condition and test results to determine if they need a medevac to O`ahu. They would be flown out of Upolo Airport. I stopped having these patients flown from Waimea due to the time lost in doing so. We now have fixed wing planes and specialized patient transport helicopters.
It was a good idea for North Hawai`i Community Hospital. I suspect it was a necessity for improved trauma care. Queens has been very involved in improving cardiac care in the outer islands, implementing protocol and a hot-line. Hilo Hospital has a connection with Queens that enables them to do video conferencing (telemedicine) with Queens' specialists, with a 24-hour neurologist on call.
Missing is a catheterization laboratory on this island, and perhaps Queens will look at underwriting that.
EC: Do you have any advice for people coming to the Kohala Hospital ER?
Dr. W: I do. It's important for people to remember that ours is a basic emergency room. An advantage of our emergency room is that there is typically no wait time, unlike the larger, busier hospitals.
If critical conditions such as chest pain and particularly if stroke symptoms occur, it is really important to call 911 and don't lose time coming to Kohala Hospital. It is not a good idea to drive yourself to Waimea, as the medics in the ambulance can already be taking care of you en route. For strokes, there is a very critical time between when the stroke occurs and the time the clot-busting drug is given. Every minute counts.
EC: Who else is on your team in the ER? We may wish to continue these interviews with hospital staff for the Kohala Mountain News.
Dr. W: We have Dr. John Wilkinson who takes half the on-call days. He has 35 years of experience in emergency rooms. The rest of the shifts are divided between me, Dr. Green, and Dr. Elder.
The meeting was finished with a little walk in Dr. Watkins' orchard at Hawai`i Island Retreat, which he and his wife Jeanne built and where the hospital has had wonderful fund-raising benefits in the past. Check it out online!
If critical conditions occur, it is really important to call 911 and don't lose time coming to Kohala Hospital.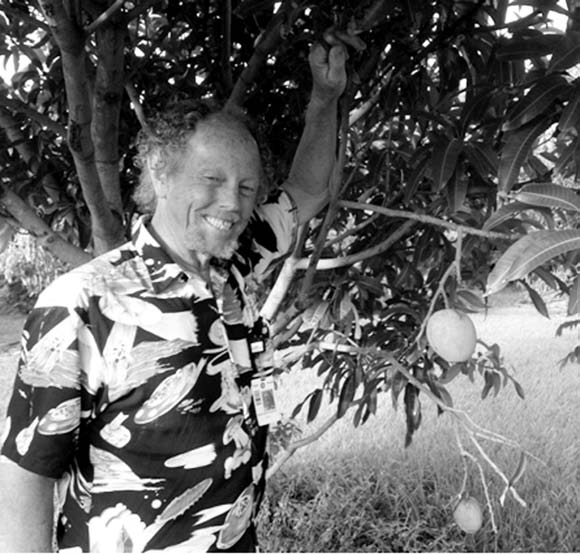 —photo by Elaine Christianson
Dr. Watkins rests on a tree at the Hawai`i Island Retreat after an interview. He is the Chief of Emergency at Kohala Hospital and gave his perspective on the emergency room changes.